FREQUENTLY ASKED QUESTIONS
Where can I purchase a copy of Listen Up?
---
Queensland: Amazen Puzzles & Games 1/84 Bulcock St CALOUNDRA QLD 4551 Amazen Puzzles & Games 166 Main St MONTVILLE QLD 4560 Nurcha Maroochydore 32 Wises Rd BUDERIM QLD 4556 Nurcha Kawana 566 Kawana Way BIRTINYA QLD 4575 Masa Masa Gift Shop 7 The Esplanade MAROOCHYDORE QLD 4558 Bim Bam Boom 316A Oxley Road GRACEVILLE QLD 4075 Flying Fox Studios 751 South Pine Road EVERTON PARK QLD 4053 Hurley Burley Toys Shop 2/19 Warehouse Road SOUTHPORT QLD 4215 Tableland Books 11-13 Vernon Street ATHERTON QLD 4883 New South Wales: The Gamesmen Pty Ltd Unit 3 115 Bonds Road RIVERWOOD NSW 2210 Starfish Store Shop 4/5 Burra Place SHELLHARBOUR CITY NSW 2529 Who What Why 485 Dean Street ALBURY NSW 2640 Victoria: The Coffee Apple 20 Railway Avenue RINGWOOD EAST VIC 3135 Dizzy Toys 113 Reserve Road MARSHALL VIC 3216 Sister Sensory Factory 4 4 Brooke Court MELTON VIC 3337 Mind Games - Hawthorn 760 Glenferrie Road HAWTHORN VIC 3122 Mind Games - Malvern 275 Glenferrie Road MALVERN VIC 3144 Mind Games - Northcote 361 High Street NORTHCOTE VIC 3070 Mind Games - Market Square Gallery 55 Level 1 Market Square Shopping Centre Cnr Morrabool & Malop Streets GEELONG VIC 3220 Our Past Times 296 Raymond Street SALE VIC 3850 Delightful Rainglow Shop 1 112-122 Fryers Street SHEPPARTON VIC 3630 Natural Living 1 Bridge Street FOSTER VIC 3960 South Australia: Games World - Adelaide Shop 26 Adelaide Arcade ADELAIDE SA 5000 Games World - Marion Shop 2056 Westfield Shopping Town MARION SA 5043 Games World - Modbury Shop 216A Westfield Shopping Town Tea Tree Plaza MODBURY SA 5092 Games World - West Lakes Shop 141 Westfield WEST LAKES SA 5021 ONLINE: Special Needs Resources (online only)
---
How many people can play?
---
The only limit to the number of players is how much time you have! The game is recommended for two to six people and comes with 6 playing pieces, however, players can also form teams and divide questions up when playing with extras.
---
What age is recommended?
---
Any age can play Listen Up. Some of the questions may take some deeper thought, but these can also be exchanged for more appropriate questions when playing with a younger group. We have shared this game with school groups and people from the age of 6 to 80, so the game can be tailored to suit.
---
How does the game work?
---
Players take turns rolling the dice and move around the game board, answering personal questions corresponding to the category that they land on (see our product page for examples). There are over 250 questions in total from 4 different categories, ranging from deep and meaningful to light-hearted and fun, plus various playful group activities. Active listening and respect is built into the game through the use of Get Real cards, which place the attention solely on the person answering the question, and other players must use one of these cards in order to ask a follow-up question.
---
What is The Kindness Collective?
---
The Kindness Collective is a Sunshine Coast-based initiative that aims to connect the local community and boost mental health by creating strong friendships and support networks so that everyone feels safe to reach out in their time of need. Since 2016, we have hosted over 500 free events and connected thousands of members of the community. With the help of Listen Up, we now hope to expand that mission! Find out more at www.kindnesscollective.com.au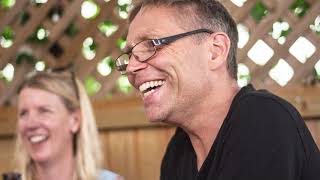 ---
I am a retailer. Can I stock Listen Up in my store?
---
Absolutely! Reach out and we'll put you in touch with our distributor, Divisible by Zero, ot you can also contact them dirtectly at sales@dbz.com.au
---
---